I'm preparing to move into an apartment and have recently cleaned out my rom. I have a lot of SUM 41 items that I have obtained through the Bomb Squad and as a fan over the years. One is listed on ebay and the rest I would like to sell privately (because all of those fees add up). I feel that these items would better serve a fan than someone on ebay. If you have any questions, PLEASE contact me.
I have a poster (promotional), a tour poster, and arm bands.


POSTER (ON EBAY)

"You are bidding on a Sum 41 poster, released for promotion of the group's second album All Killer No Filler. The poster is in excellent condition--it has never been hung, displayed, folded, or rolled in a tube. This poster is now considered rare.

The poster display's album art and the following text: It was 41 days into the summer when Bizzy D, Dave Brownsound, Cone and Steveo32 united to become Sum 41. Their brand of punk, metal, hip-hop and rock is definitely getting them noticed. Sum 41 rocked MTV's Campus Invasion Tour with American Hi Fi and Saliva and they'll be on this summer's Warped Tour. Pick up Sum41's latest release All Killer No Filler and hear for yourself; these four ugly goons from Toronto really know how to rock."

I will also accept offers from the community. If you'd like to make an offer, do not hesitate to contact me!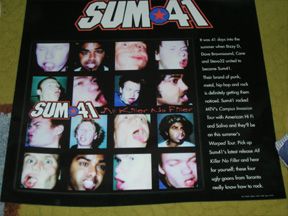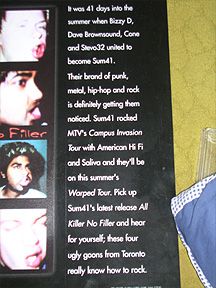 POSTER

This poster shows some wear at the bottom. The poster is in promotion and celebration of the "Sum Like it Loud" tour in 2002 with Autopilot Off, Goldfinger, and H20. The top features graphics and the bottom lists the North American tourdate dates. These posters were printed in a very limited quantity and are RARE.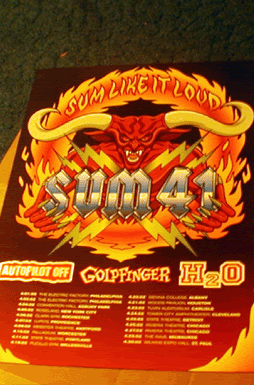 ARMBANDS

These are in the original packaging that I received them in; they have NEVER been worn and are in mint condition!! These are rare and were not in stores (that I know of). The armbands are red, white, and blue striped with the Sum 41 logo embroidered in the center.
These were sent only to member of the Sum 41 Street Team Bomb Squad and are now extremely rare!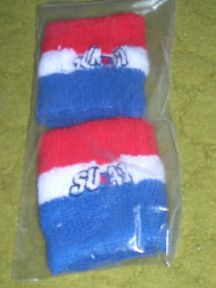 If this is not allowed (I looked at the rules but may have missed it_ please let me know. This has been x-posted.